Latest updates featuring Cassandra Cain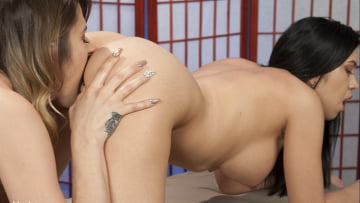 4th December
- Cassandra Cain is a busty, Latina Masseuse with a strong foot fetish and a fetish for sniffing asses of her clients while they are trying to relax in
the dark. Casey Kisses is a tall, blond, leggy business lady who is just trying to let off some steam after a long week of work. Casey heads to the massage parlor to get a deep rub down. When she gets to the massage place, she is greeted by the beautiful Latina, Cassandra who instructs Casey to disrobe and be waiting face down so she can get her massage. Casey does a nice slow strip tease for us, focusing on letting her feet release after they have been cramped in her high heels all day. She gets naked and lays down. Cassandra Cain comes into the room and sees Casey beautiful legs and feet and instantly starts thinking perverted things. Cassandra is sure that Casey won't notice nor will she mind if Cassandra were to remove all her clothing and sneak in a Nuru Massage on Casey. Cassandra loves to rub her bountiful breasts and ass on her clients while they rest. She loves the feeling of flesh o flesh, body against body. Cassandra rubs on Casey's feet and works her way up to Casey's ass where she sniffs and huff in Casey's ass. Casey is starting to notice something is strange about her masseuse so Casey decides to have a little fun with things and give Cassandra a surprise of her own. Casey turns over and reveals her long hard cock! Cassandra is now in for punishment for sneaking in all the ass licking and sniffing. Casey gets Cassandra down on the massage bed and fucks her feet with her cock; making Cassandra perform a footjob on her long cock. Casey lets Cassandra suck her cock with sloppy blow jobs then she turns Cassandra around and fucks her doggie style until Casey is ready to cum. Casey starts fucking Cassandra's feet again and cums all over her pretty toes.
...Read More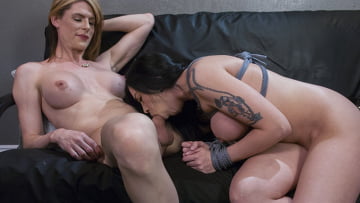 6th November
- Beautiful Latina Cassandra Cain has a terrible fear of enclosed spaces. She is desperately trying to find a cure for her claustrophobia. She's been se
eing a sexy MILF doctors to help her with her needs. The two have tried just about everything to fix Cassandra irrational fear of being enclosed. Her Doctor, Delia Delions is going to try a method she used in the 90s. She's going to immerse Cassandra in her fear while also giving Cassandra her greatest pleasure. Cassandra has an obsession with cocks and getting fucked. So Naturally, Delia is going to put Cassandra into a tight spot and give her cock and sex. Cassandra is tied up in bondage with her perfect tits wrapped up like presents. Confusion sets in and Cassandra it tied. She starts to panic, her heart is racing...she wants out but she can't get out because the bondage is too tight. Cassandra is freaking out until Delia reveals her big hard throbbing cock. Cassandra's fears are soon put aside and actually aid in her ability to cum hard. The adrenaline of being tied up while getting fucked makes Cassandra cum again and again. Delia has created a sex monster with her client now sucking cock and taking cock in her pussy.
...Read More