Latest updates featuring Jet Setting Jasmine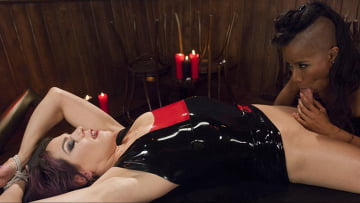 31st July
- Kelli Lox has been a long time, loyal minion for her mistress of the night, Jet Setting Jasmine. Jasmine is a sexy ebony vampire who recruits Kelli Lo
x into bringer her fresh young blood to suck. Kelli has been so loyal for so long and she's getting eager for Jasmine to turn her into a vampire but Jasmine just never thought Kelli was worthy. When Kelli reveals a few secrets of her own to Jasmine, Jasmine, lust for blood and orgasms are insatiable. Jasmine ties up her long time assistant who is dressed in skin tight red and black latex that compliments her perfect lean body. Jasmine reveals Kelli's huge pulsating cock. All the blood pumping through Kelli's cock drive's Jet setting jasmine insane. She sucks on the cock and gets her undead pussy ready to take the whole pounding cock. Jasmine takes off her corset and moves her fishnet body stocking away just enough for Kelli's cock to slide in and out around it. Jasmine rides Kelli's hard throbbing cock until both ladies cum hard. Knowing how special Kelli is, Jasmine is going to finally turn Kelli so these two hot lesbian vampires can suck each other off all the time. Hot bondage blowjob followed by passionate fucking!
...Read More
>> CLICK HERE TO DOWNLOAD <<
5th April
- Jet Setting Jasmine didn't know what was coming to her today. She took on Daisy Ducati and she wasn't ready for how horny Daisy was going to make her.
Daisy is relentless with this fighter. Jasmine gives everything she has not to cum during wreslting, but her pussy gets the best of her and when she does cum, she cums hard. Penny Barber steps in as ref and welcomes Jasmine to Ultimate Surrender with a good ole fashioned tag team up on the little horny, orgasmic rookie.
...Read More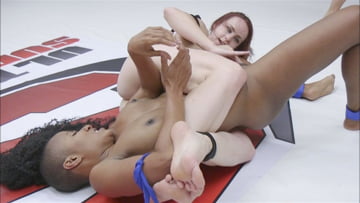 1st March
- Welcome Jet Setting Jasmine to Ultimate Surrender, Bella Rossi Style. Jasmine is trapped on the mats and made to cum with explosive orgasms.Loser get
completely dominated by the winner, sucks cock gets strap on fucked and face sat. 100% real competitive lesbian wrestling.
...Read More